Message
We support "leading edge" in the world
Hirai's original "super" technology
History of HIRAI DENKEIKI Co.,Ltd. started when Daisuke HIRAI, first president, established individually-owned company in 1921after leaving from SiberHegner Holding Ltd. managed by Swiss, located in Kobe at that time.
Since then, the company brought dramatic improvements. Present limited company was founded in 1952. Head office and work site were moved to present location in 1965 and realized integration of manufacturing, sales, and operation to this day.
While these days, Hirai won a name as ""Hirai for transformer"" and held an established position with technology of epoxy mold and development capacity for transformer for special use. As special note, Hirai accomplished technology of epoxy molding in 1961and started to supply transformers, applied this technology, to leading companies in Japan in 1965. Since then, this epoxy molding technology wins credibility more than ever, and achieves satisfactory results at the present day. Today, Hirai keeps to develop new technology to create earth-friendly products of more smaller size, light weight, reasonable price, and higher performance with our accumulated technology, integrating with resin for thermal conduction and for recycle.
President Takaya HIRAI
Corporate Motto

"Wa Shin Kyou Ei"
This is corporate motto since establishment of Hirai.
This word was specially written in Japanese traditional calligraphy "shodo" by Taneichirou Nakano, the eighth Chairman of Kyoto Chamber of Commerce and Industry.
The motto means to go forward for business with harmony and trust and to achieve prosperity.
Integration of latest technology and meister's craftsmanship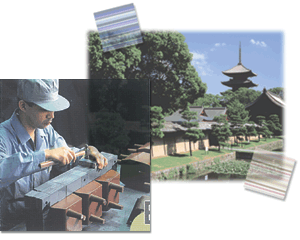 Hirai's present prosperity deeply linked to the company location, Kyoto. Kyoto uprear plentiful traditional crafts and takes meister's art continuously with a millenary history as the capital. These history and traditional technique are fully applied to transformer's manufacturing process which sometimes requires precise manual works for single customization. This results manufacturing of high quality transformers as Hirai.