Product Information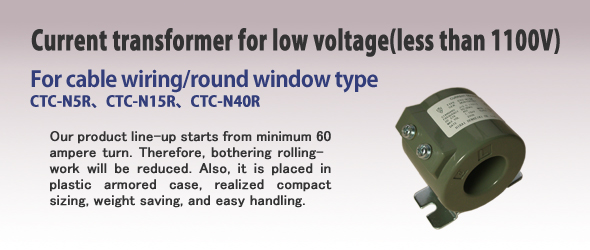 Characteristic (unit) / TYPE
CTC-N5R
CTC-N15R
CTC-N40R
Rated Primary Current (A)
60
-
-
75
-
-
100
100
-
120
120
-
150
150
150
160
160
160
180
180
180
200
200
200
240
240
240
250
250
250
300
300
300
400
400
400
500
500
500
600
600
600
750
750
750
Secondary Current (A)
5 or 1
5 or 1
5 or 1
Rated Burden (VA)
5
15
40
Accuracy Class (class)
1.0
1.0
1.0
Overcurrent Intensity (times)
40
40
40
Maximum Voltage / Withstand Voltage (kV)
1.15/4/-
1.15/4/-
1.15/4/-
Frequency (Hz)
50/60
50/60
50/60
Feature
Able to change direction of installation leg to 90 degree.
Able to use 600V vinyl wire for primary conductor.
Caution
Power frequency withstand voltage/lightning impulse withstand voltage will be indicated for withstand voltage.
Product mass could be varied by variation of core characteristic.
Rated Primary Current (current transformation ratio)
Window type current transformer has flexibility in application and is reasonable because of its usage for several rated primary current by changing primary conductor.
[CASE: Current transformation ration100/5]
Number of penetration: 1turn ..........Rated primary current 100A
Number of penetration: 2turns..........Rated primary current 50A
* CTC-N5R、CTC-N15R、CTC-N40R are manufactured, with JIS Standard (JIS-C1731).
Consultation / Request for Development
We will design and manufacture transformer for any purpose, such as for low voltage/high voltage, for low frequency/high frequency, and for extra precision/general use etc.
With your inquiry, we will estimate, design, and manufacture product which is not available in this Website, with no distinction of Standards.(JIS, JEC for domestic, IEC , BS , ANSI , AS , CSA for overseas.)
Please send us E-mail for below address.
Personal information you provided will be used for responding to your inquiry, improving our service, and providing our information.
Contact
* Accept 24 hours. (E-mail)
* Sending your questions after office hour or holiday may result in delay.
* Please click above E-mail address for start-up.